2012 first trip to Bonaire

In the summer of 2012 we went to Bonaire for the first time. Diederik had been there about 45 years ago, but that doesn't really count. This trip was different than any of the other vacation trips we have taken in the past. we came as tourist (with a purpose) and left as landowners. No house yet; just very sharp rock with prickly bushes and cacti. But also a magnificent view. Want to know more about our future homesite? This
link
will take you there.
Since there are going to be more trips to Bonaire in the next few years, I didn't include any pictures of 'nature', either above or below water in this trip report. Those are shown on separate pages that are expected to grow over the years:
underwater
abovewater
plants
. Someday I will have time to add information to these pages about this things shown. For now they are just pretty pictures.
First a few general pictures from the
house
we rented. It is a few houses down the block from our future place.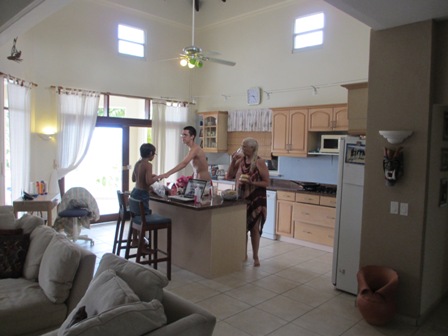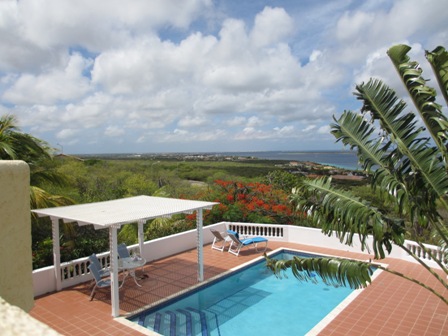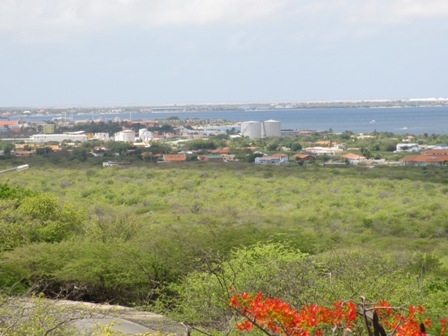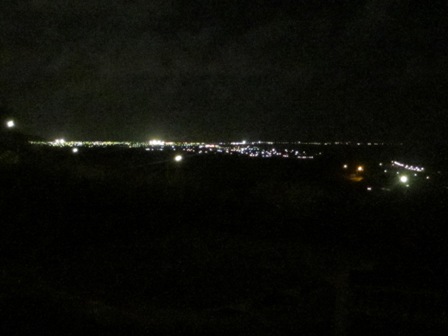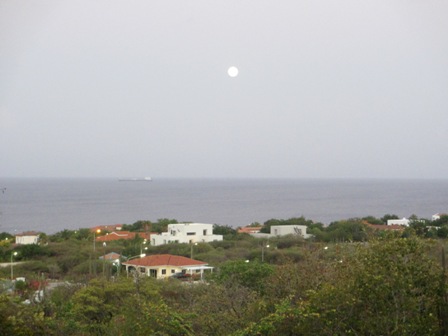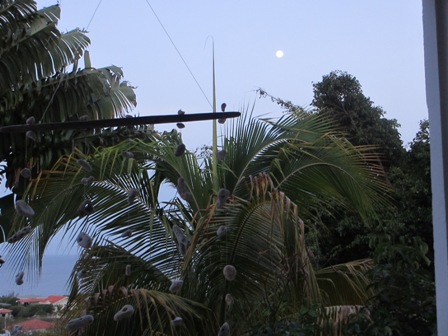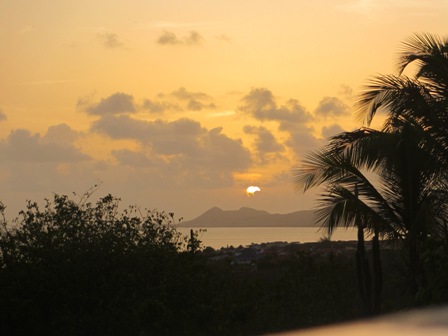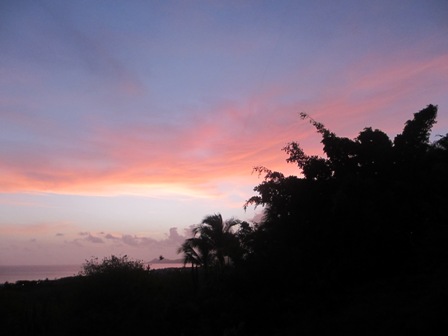 The view from the upper deck, followed by a zoomed-in version and a night time version. Our own house is going to be a bit higher and will have an even better view.

Here are some pictures taken from the pool deck at full moon and at sunset.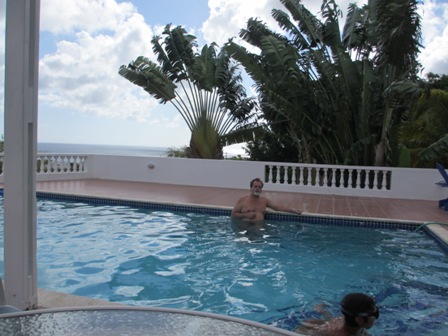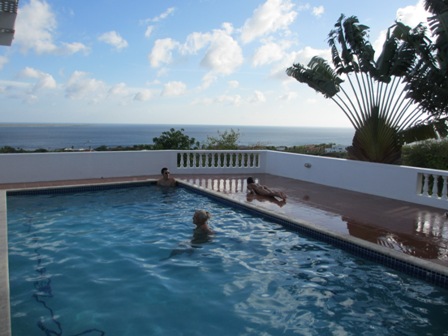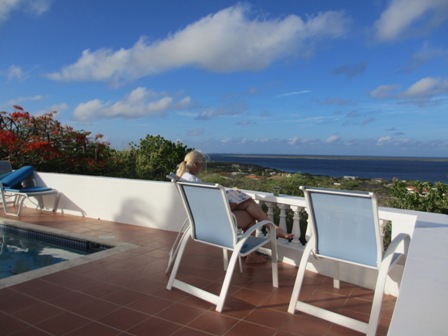 In this climate you spend a lot of time outside. In the morning or in the evening you can sit our under the sky, but during the rest of the day you look for the shade or the pool. This house had a shaded area next to the tool, but (like any upscale house) also a very large covered patio. I preferred spot for our mornign coffee was at the tip of the poo deck where you had a wide view, saw plentty of birds, and ofcourse wild goats. You could hear the wild donkeys too, but never saw one from the deck.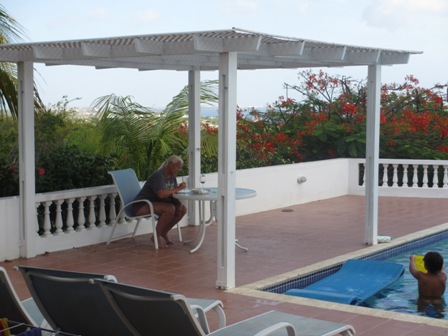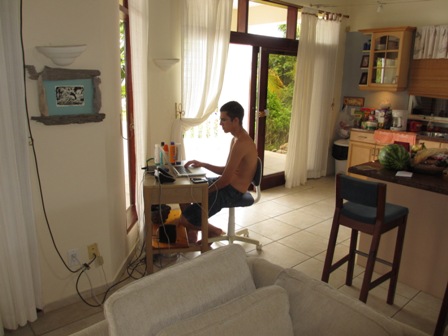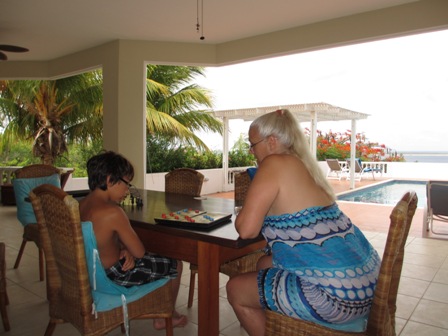 It is not that you cannot sit inside, but this house didn't catch much of the constant breeze, so living room and kitchen were quite hot without airconditioning.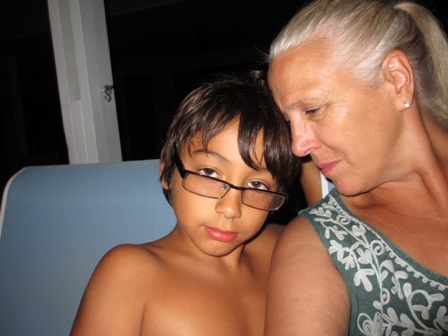 An intimate moment by the pool in the evening.

Bonaire was never in the past a significant place. No big shielded harbor like Curacao has; no oil refinaries like Aruba and Curacao had. And the saltpans, while occupying a good percentage of the island, were never really big business.So the capital Kralendijk is small with just a few old buildings. They have been well restored and currently the infrastructure is undergoing a massive overhaul.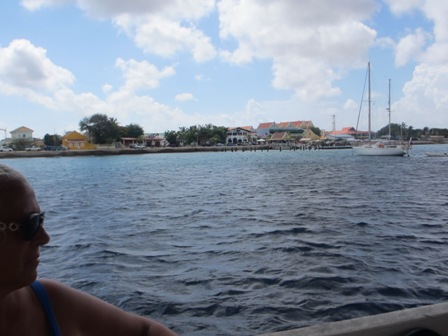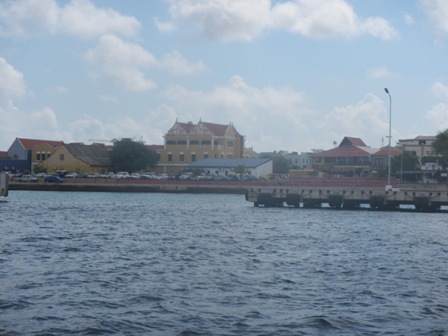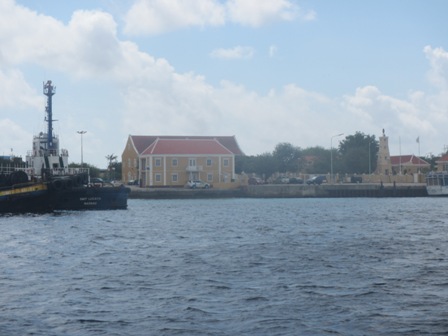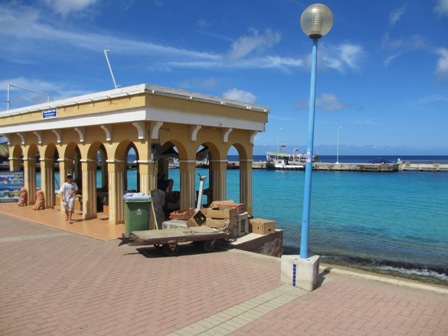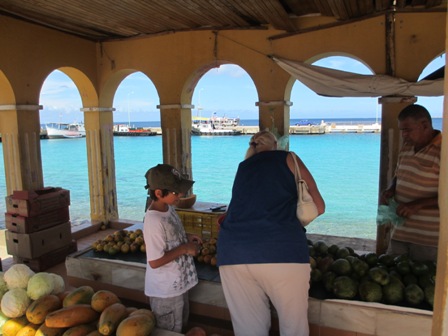 The old fishmarket below is now used as a fruit and vegetable stand. These come from Venuzuela in small barges that come a few times per week. On the bottom picture you can vaguely see the barge at the pier all the way to the left.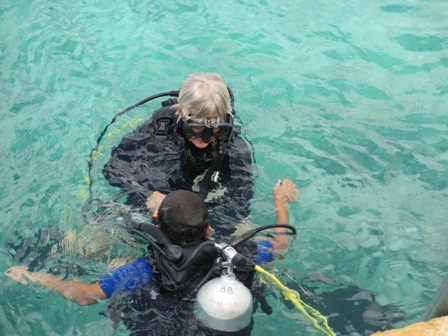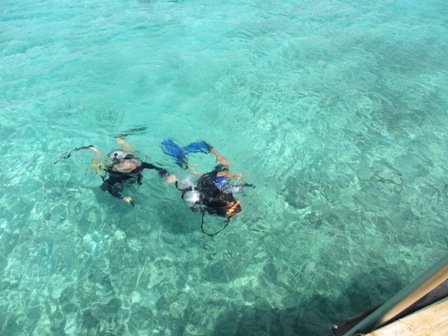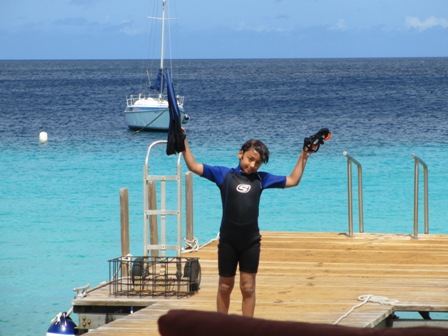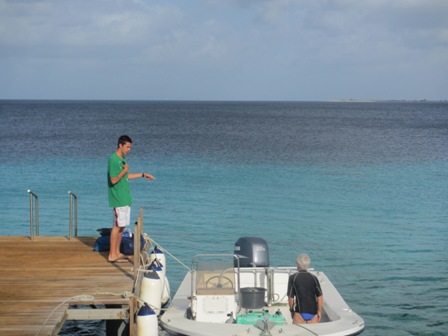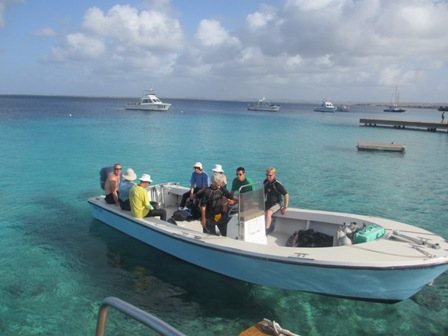 Bonaire is one of the prime scubadiving spots in the world. In the late 1960s all the waters around Bonaire were changed in a national park. No anchoring, no fishing, no taking corral or shells. And even though the reefs do get damaged occasionally by storms (which out sand on the corral, which kills part of it), the reefs are in good shape with a very wide variety of fish. Both Jordan and Stephen did some scubadiving. Jordan went through an intial check-it-out cleass, but a 10 year old is really not ready for this either physically or mentally. Stephen on the other hand went through the full certification. There are lots of dive operations on the island, but Stephen and Jordan went to one of the smaller ones where you get more personal attention. Even though we paid for group lessons, they each received completely one on one training. We can recommend
Carib Inn
to anybody.
Of course we did our regular exploring and 'beach' visits around the island. Most of the coast is rocky although there are plenty of palces where you can gte into the water of you are willing to step over the rocks or the piles of corral.

Jordan and Stephen exploring the coast just south of Kralendijk. The road runs along the coast and at the other side of the road are the saltpans where you will see flamingos.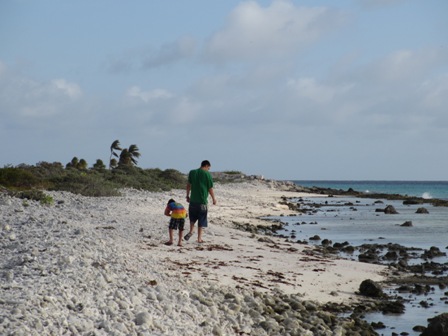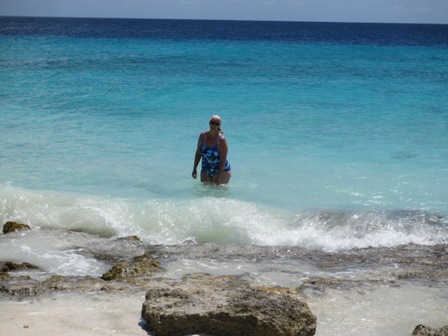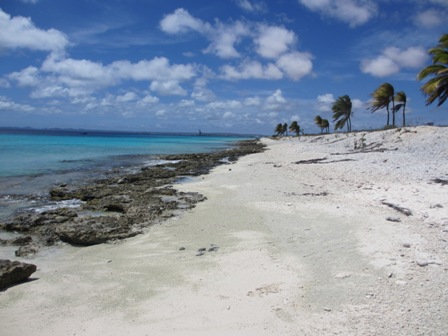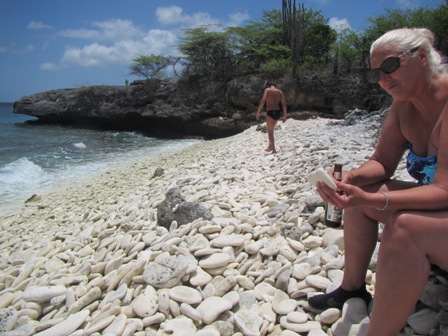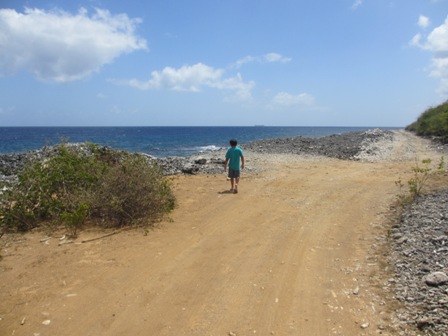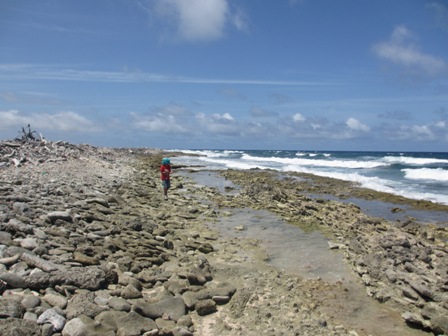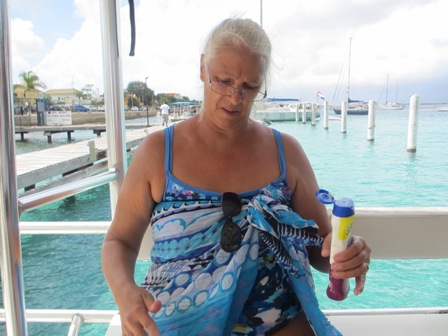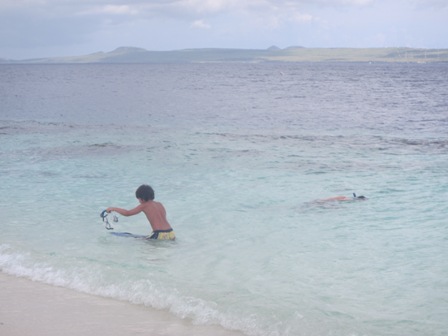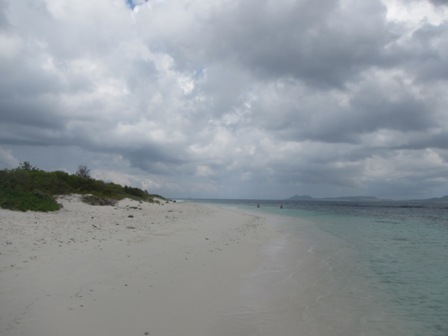 If you go another mile further south, you are on pink beach where we took a dip:

On another day Diederik and Jordan explored the east coast of the island by driving a few miles past Pink beach and turn around the southern point of the island. Because the wind comes year round from the same direction this coast is always rough. And lots of things wash up. There was an area where hundreds of corral fans had washed up. And other areas where the drift wood and plastic came on shore.

If you continue along the road, you end up on Lac Bay where windsurfing is a big operation. It is a very big shallow bay, with a constant breeze. Also lots of sand. The only significant beach on Bonaire's main island is here. Sorry no pictures.

One other trip we drove north from where we were staying towards the westestern part of the island. Again mostly rough coast, but there was supposed to be a small secluded sandy beach (Nukove). However the sand was all gone at this time. Hopefully it will wash back up.

So what is a beachbum supposed to do on Bonaire to get his fix? Well he takes a watertaxi to Klein Bonaire (Little Bonaire). Couple nice beaches there but no facilities and most people stay close to where the watertaxi drops them off. Klein Bonaire is part of the national park and is surrounded by dive spots. We haven't tried it, but it is said that you can walk all the way around Klein Bonaire to find secluded beach spots, but the complete circumference is about 6 miles (10 km). Or have/arrange your own transportaion to the island. Maybe we will get a small boat someday.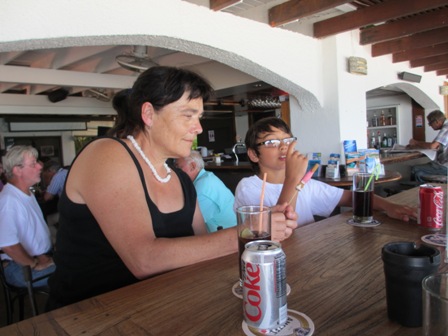 Without any doubt one of the highlights of this trip was the arrival of our first visitor. Diederik's sister Christine was on Curacao and came over for 2 days. In the future we exspect many more visitors from both the US and the Netherlands and will build our house big enough to accomodate them.

And with vacation comes eating out. So here are a few pictures from us eating in one of the reataurants in Kralendijk. Many of them are along the coastal road. And if you have dinner at a typical time you get to see the sunset.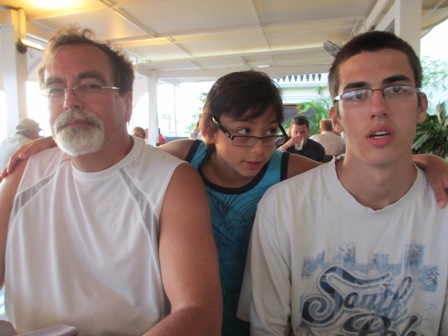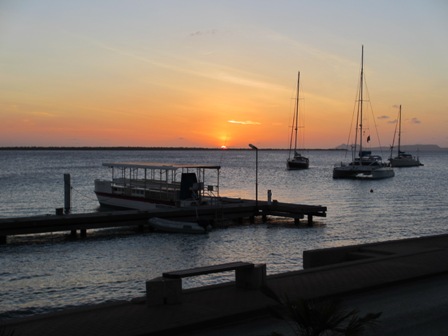 The Tipsy Seagull at the Plaza Resort has Lobster night on Friday. We should have known better since there are no lobsters (caught) on Bonaire.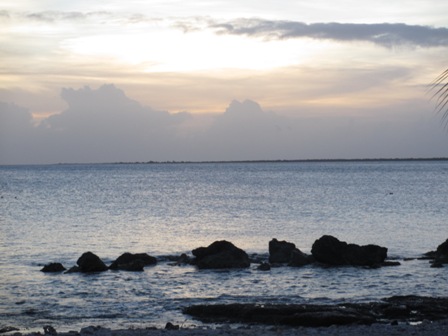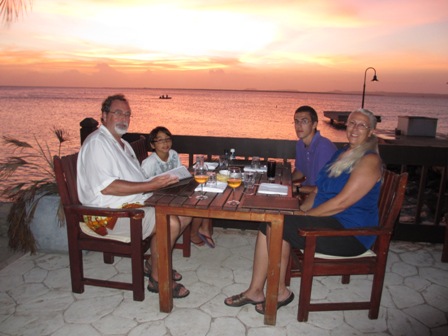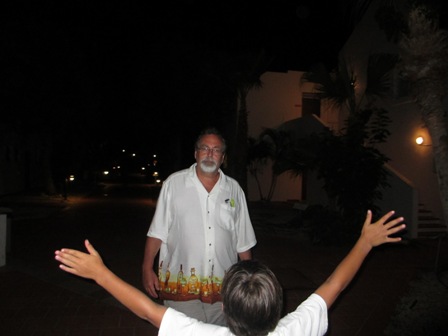 La Guernica
, a tapas and seafood restaurant. Stephen was hungry and when they brought out plates he thought he was going to get his food. But nothing came for a long time.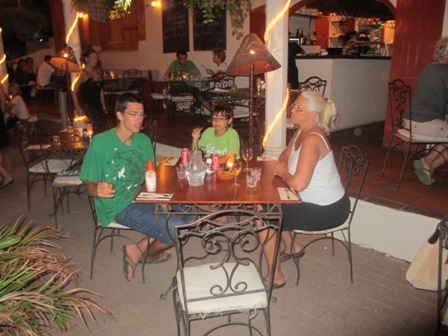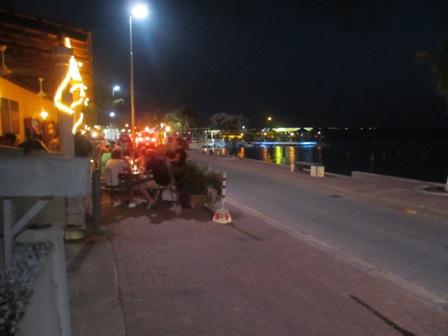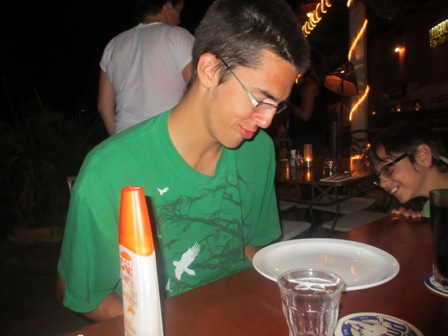 The second time we went there, Stephen was much happier: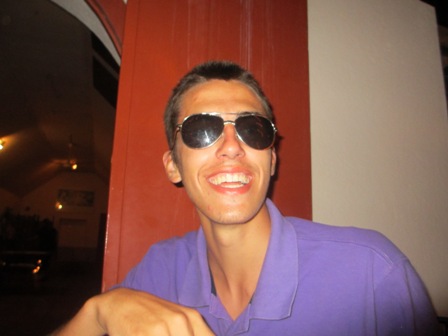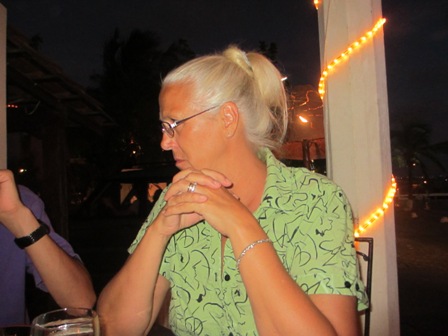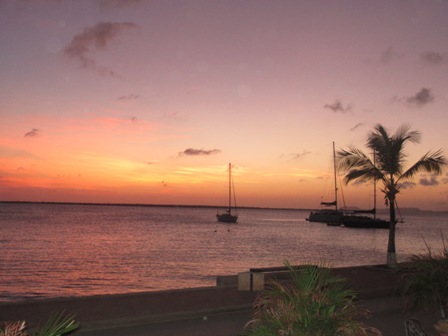 And then there was Norca's deli. No website. She makes all kinds of Venuzualan, Thai and Indonesian food.
Rijsttafel
has to be ordered two days ahead. But we wouldn't let an opportunity like that get by us if al  it takes is a little planning.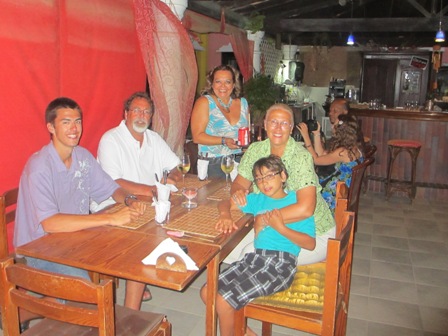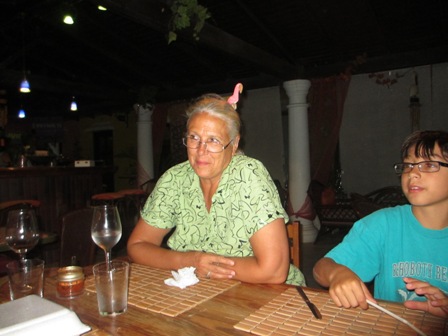 But of course the ultimate highlight of the trip was buying our building lot.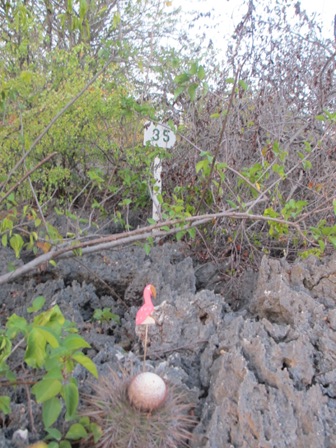 That called for a little celebration in/by the pool of course.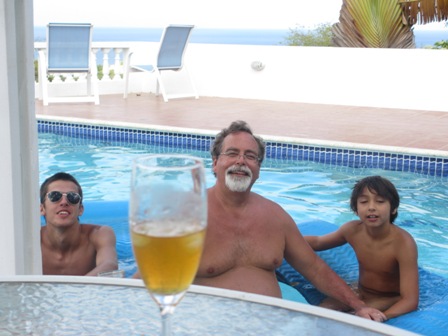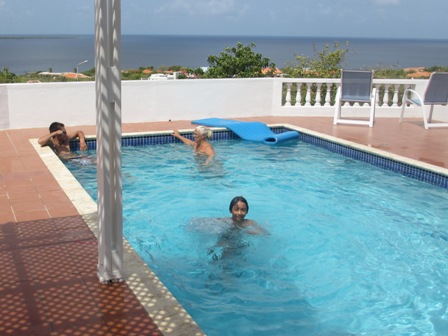 Next summer we will be going back to Bonaire for a few weeks. The plan is that we will be talking to builders then. But we would welcome more visitors too. It will very likely be 3 years before we will be able to spend the summer in our own house.